Genesh Chaturthi
Ganesh Chaturthi is one of the major festivals celebrated by Hindus across the world with great devotion, enthusiasm and is observed as one of the most auspicious in the Hindu Dharma. Bhgwan Ganesh or Ganesha is highly revered and the most worshiped deity by Hindus. Almost all Hindu homes have the deity of Ganesha. With an elephant head and a huge belly, Ganesha is prominently known as the remover of vighna (obstacles) and for good fortune.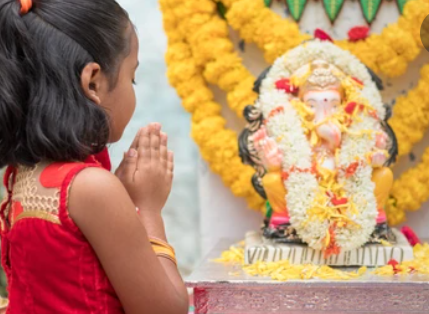 Ganesh Chaturthi is a festival in honor of his birthday. Ganesh has 108 names and this festival goes with many names along the lines like Ganesh Chaturthi, Vinayaka Chaturthi, Ganapati Chaturthi, Ganeshostav. Every year, Ganesh Chaturthi is celebrated with a 10-day festival, during which four main rituals, namely Prana Pratishta, Shodashopachara, Uttarpuja, and Ganpati Visarjan are performed.
Festivities begin as Ganesha deities, generally made of clay and decorated with flowers and lights, are set up in homes and also at temporary public stages called pandals. Priests then conduct Prana Pratishta, a ceremony in which mantras are recited, invoking Ganesha's presence into the clay deity, after which he is offered formal prayers in a 16-step worship called Shodashopachara. During each day of the celebration, prasad, or food blessed by the deity, is distributed throughout the community. Followers also meditate on the many aspects of his form, which symbolize deeper spiritual truths, while many choose to observe fasts.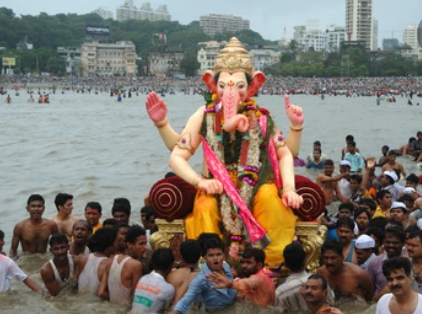 On the last day of the festival, Uttarpuja is performed, a ritual bidding Ganesha farewell. After, he is carried in a public procession with kirtan (devotional music) to a nearby body of water in which he is immersed. This custom is Ganpati Visarjan, and it symbolizes his return to Mount Kailash, a peak in the Himalayas where Shiva and Parvati are said to reside.
Ganapati Visarjan processions are very famous throughout Bharat. Just in Mumbai city there are more than 75,000 public pandals set up every year. All these Ganesh deities are taken with huge public processions for visarjan. Families also have Ganesh deities in their homes for Ganesh Chaturthi. Sometimes, families with no public water bodies nearby, immerse the Ganesha deities in water containers in their backyard.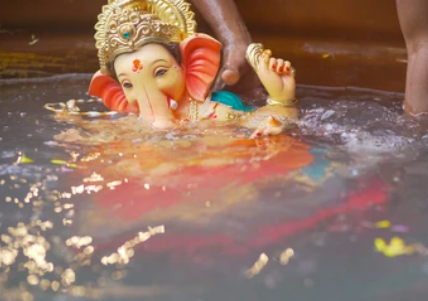 We do not know exactly how far back in history Ganesha Chaturthi has been observed with public events. Some historians believe the festival became a major public event in the 1600s when Indian king, Shivaji Bhosale, first sponsored the celebration.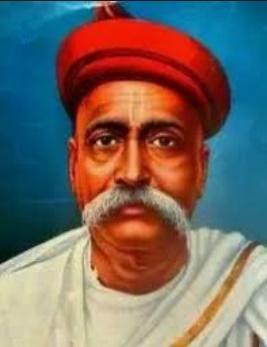 The festival is said to have been revitalized later in the 19th century as a symbol of India's independence movement, by freedom fighter Bal Gangadhar Tilak. He said, "Swarj (self-rule) is my birthright and I shall have it". This became a slogan for all freedom fighters. In 1892, the cities of Pune and Mumbai became packed with devotees, despite the fact that such large gatherings were not allowed by the British. The 10-day festival was celebrated with a patriotic gusto fueled by a united deep devotion and love for Ganesha.
To this day, Hindu festivals continue to be celebrated with similar pomp and fervor, signifying the everlasting power such devotion can generate.
(References: www.hinduamerican.org)
Note: Exercise files like Audio, Video or PDF for this resource item will be available if uploaded.
Exercise with Fun
Quiz
Liked reading this story? Login with these credentials - parent/Child@123!! and take the quiz.