HOLI
"Hurray, the spring's back! — HOLI HAI" – words strike on ears. At first, it does not click and then suddenly we figure out, "Oh! It is a Holi Festival!!!". Holi! Indeed, it is a great spring festival. It falls in the Hindu month of Phalgun (Feb-March) that is right after the Vasant Panchami. The way Deepavali is a festival of lights, Holi is a festival of colors. Like all other festivals, Holi also has some legends associated with it. But one legend is quite interesting. Perhaps, the word 'Holi' is evolved from this legend. Let us look at it.
This legend is about the king Hiranyakashipu, his son – Prahlad and his sister– Holika. The king was a bad guy. He commanded everyone to worship him. But his little son Prahlad refused to do so. Instead he became a devotee of Lord Vishnu. King asked Holika to punish Prahlad. Holika, possessing the power to walk through fire unharmed, picked up Prahlad and walked into a fire. Prahlad, however, chanted the names of Lord Vishnu and was saved from the fire. Holika perished because she did not know that her powers were only effective if she entered the fire alone.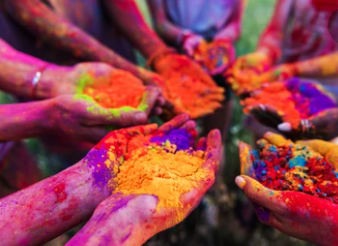 Celebrations
Holi is celebrated in memory of the immortal love of Krishna and Radha. Child Krishna, Radha, and his friends used to celebrate Holi by singing songs, enjoying swinging and sprinkling Gulal (colored powder) at each other. The same tradition is continued even today.
Holi is an occasion that brings in unadulterated joy, fun and of course, lots of bright colors to make a festive graffiti on every heart. With winter neatly tucked up in the attic, it's time to come out of our cocoons and enjoy this spring festival. The images of Krishna and his consort Radha are often carried through the streets on this day.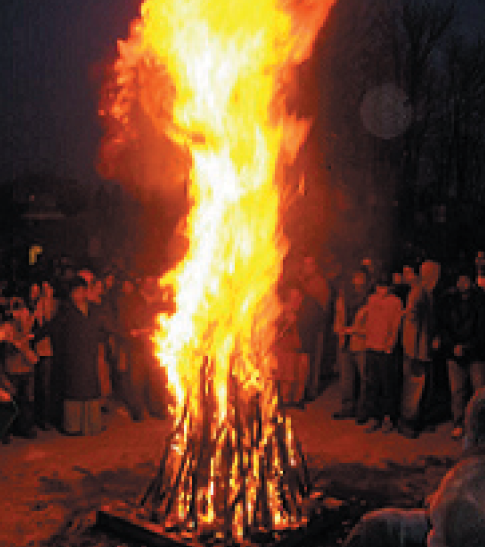 During Holi, images of Holika are burnt in keeping with the legend of Prahlad and Holika. The evening is celebrated by lighting huge bonfires as part of the community celebration when people gather near the fire to fill the air with folk songs and dances. People clean their homes, remove all dirty articles from around the house and burn them. It is believed that disease-breeding bacteria are thereby destroyed, and sanitary condition of the locality is improved. People take a little fire from this bonfire to their homes. They believe that their homes will be rendered pure, and their bodies free from disease.
The next day is most energetic and fun. Everyone gets set to paint each other in the colors of joy. Children, youth, men, and women visit each other's homes. Gulal are thrown into the air and smeared on each other's face sand bodies. Pichkaris and water balloons are filled with colors and spurted onto people. Even, the enemies forget their enmity and embrace each other. The funny thing is that anybody can sprinkle colors on anybody. Nobody feels offended. In case, if somebody feels offended, you can get away by saying, "Bura na mano, Holi hai!" (Don't mind, it's Holi!"). Young people pay their respects to elders by sprinkling some colors on their feet, some powder is also smeared on the faces of the deities, especially Krishna and Radha.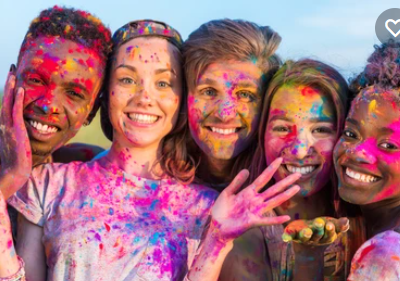 Holi has social importance too. The social aspect is the uniting of the great and the small, of the rich and the poor. It is also the uniting of equals. The festival teaches us to "let the dead bury the dead". Holi also means "sacrifice". Burn all the impurities of the mind, such as egoism, vanity, and lust, through the fire of devotion and knowledge. Ignite cosmic love, mercy, generosity, selflessness, truthfulness, and purity through the fire of Yogic practice. For this reason, it is now being celebrated by many non-Hindus too in many countries. Many student organizations in colleges in America also celebrating Holi.
This is what Holi is! Nowadays, Holi is more social than religious. Festivals like Holi really help to keep the society united.
Note: Exercise files like Audio, Video or PDF for this resource item will be available if uploaded.
Exercise with Fun
Quiz
Liked reading this story? Login with these credentials - parent/[email protected]!! and take the quiz.