Make your own UGADI PACCHADI
A dish made on the day of Ugadi!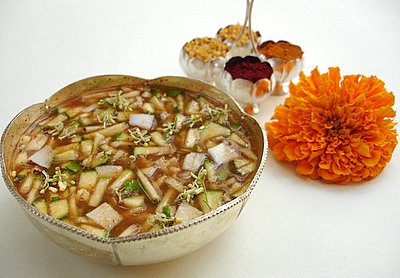 Ugadi pacchadi is a dish made on the day of Ugadi – the Hindu New Year! This is made and offered as prasad to Bhagawan and is the first thing to be consumed on this day. This is especially popular in the southern part of India.
What is the significance of this Ugadi pacchadi you ask?
This is made of 6 main ingredients and these ingredients represent the 6 basic tastes.
| | | |
| --- | --- | --- |
| Ingredient | Taste it represents | Life flavor |
| Jaggery | Sweet | Happiness |
| Salt | Saltiness | Unknown factor/Fear |
| Tamarind | Sourness | Unpleasantness |
| Black pepper | Spiciness | Anger |
| Neem | Bitterness | Sadness/Hardships |
| Raw Mango | Astringent (kind of a bitter rawness) | Surprise factor |
These 6 tastes, called the shadruchi ('shad' – 6 and 'ruchi' – taste) according to Ayurveda, represent the many flavors of life. We face many situations and life can be full of happy and/or sad things. But we have to accept all things equally. We should be willing to welcome and face and win over any sort of situations. This is the message of this dish – Ugadi pacchadi. This is why it is consumed first thing in the morning after shower and Pooja; think of it as a new year resolution in one sense!
How to make it?
Take the following ingredients:
Jaggery – ¼ cup

Tamarind – 1 marble size ball

Neem flowers – 1 tablespoon full

Black 

pepper powder – ¼ teaspoon

Salt – ¼ teaspoon

Raw mango pieces – ¼ cup

Water – 1 cup
Optional:

roasted dalia (fried gram dal) powder – adds a little thickness

almond/cashew pieces or powder and raisins – for taste

banana, cut into small slices – for taste

somph (fennel) powder – for taste

fresh coconut pieces – for taste

Soak the tamarind in some warm water and squeeze to make pulp and melt the jaggery in the tamarind pulp water

Add the rest of the ingredients and mix

Optional ingredients are just for taste and/or better texture
Variations…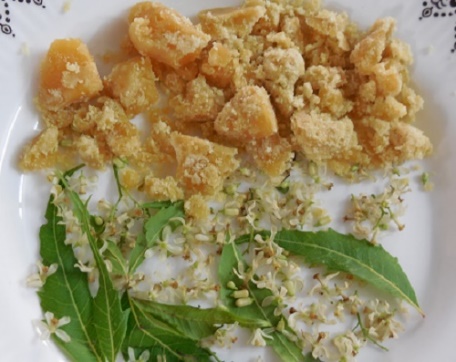 Some use neem leaves instead of neem flowers

Some use green or red chilli instead of black pepper for spice

Some even offer and consume a much more simple version of this – just neem leaves with jaggery
How do you consume it?
Wake up early in the morning on the Ugadi day

Shower and dress

Make the Ugadi pacchadi

Do pooja to Bhagawan, say your daily shlokas and offer the Ugadi pacchadi as prasad to Bhagawan
Now eat the prasad, Ugadi pacchadi, and think of its significance as you eat it; and make a resolution this new year!

Then you can go about with the rest of the day and festivities!
Extras… Learn More…
Explore more on shadruchi by reading more about it. Think of all the foods/flavors you eat. Can you categorize each dish or ingredient into the 6 tastes?

Neem leaves and flowers have many health benefits. Can you find out what makes it so healthy? Also, any other uses to different parts of neem tree (one hint – neem twig)?