Mother's Day – Greeting Card
Material:  Greeting card paper (or index card ), 2 popscicle sticks, glue and silk flowers etc for decoration.
Procedure:
1) Fold the card paper into half. Write the above message on a plain paper. Cut the message and glue it on the centre of the greeting card.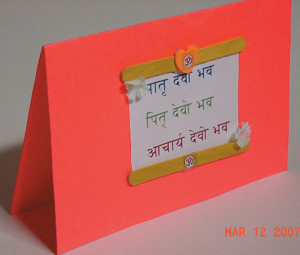 2) Stick popscicle sticks on the top and bottom of the message.
3) Decorate it with plastic flowers or any other decorative material. User your creativity here.
4) Your greeting card is done. Give it your mother on mother's day. This is good even for Father's day too!
Note: Adjust the message size according to the greeting card or the popscicle sticks for hanging.
Note: Exercise files like Audio, Video or PDF for this resource item will be available if uploaded.
Exercise with Fun
Quiz
Liked reading this story? Take the quiz.