Navaratri
Navaratri is a festival in honor of Goddess Durga. Goddess Durga is known as the Universal Mother. She is believed to exist in many forms such as Goddess Bhavani, Jagdamba, Mahakali, Chamundeshwari, Kali, Lalita, Gauri and Amba. The word "navaratri" literally means nine nights. This festival is celebrated for 9 days. The nine days are divided and devoted to Saraswati (Goddess of Learning), Lakshmi (Goddess of Wealth and Prosperity), and Durga (Goddess of Strength and Courage).
Goddess Durga is considered as a Goddess of strength, power, and courage. In other words, she is the energy (and power) aspect of the Gods.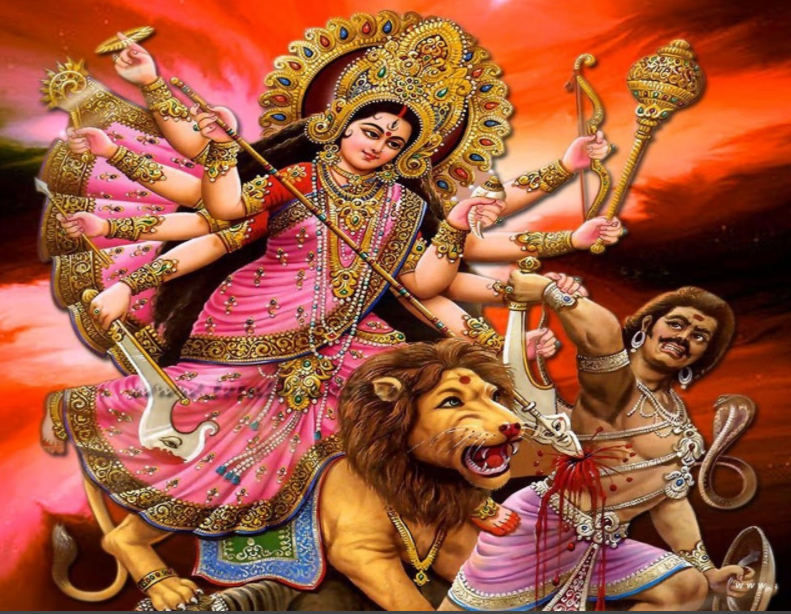 That is why she is also known as "Shakti" (power). Thus, on this day, we invoke the energy aspect of the Gods in the form of Durga. Literally, Durga translates to the remover of the miseries of life. Goddess Durga is considered as the energy aspect of Gods. Some may ask what that means. Others may ask why Goddess Durga is worshipped on a certain day, and for 9 days. There is a striking story behind this. The story goes like this: The evil Mahishasura performed severe penance and became the ruler of the three worlds: heaven, earth and the nether-world. Unable to stand his atrocities, the Gods requested Lord Vishnu to help. Lord Vishnu advised them that Mahishasura could be killed only when the combined power and the strength of all Gods strikes him. All the Gods, including Lord Vishnu, combined their powers in a physical form of Goddess Durga. This is how Goddess Durga came into existence as a combined and organized strength and power of all the Gods. Goddess Durga, then, fought with the demon Mahishasura. The battle lasted for nine days. At last, on the tenth day, Goddess Durga killed the demon Mahishasura and freed the three worlds from his shackles. That is why she is also called by "Mahishasura Mardini", which means destroyer of Mahishasura.
How is it celebrated?
Navaratri is divided into sets of three days to adore different aspects of the supreme Goddess. On the first three days, the Supreme Goddess is invoked as a powerful force called Durga in order to destroy all our impurities, vices, and defects. The next three days, the Supreme Goddess is adored as a giver of spiritual and inexhaustible wealth, Lakshmi. The last three days are spent in worshipping the supreme as the goddess of wisdom, Saraswati. In order to have all-round success in life, we need the blessings of all three aspects of the divine supreme.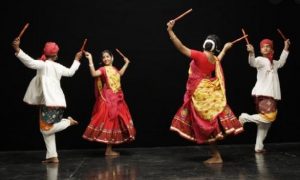 The most common form of public celebration is the performance of garba or dandiya-raas. Garba is a graceful form of dance, wherein women dressed in exquisitely embroidered choli, ghagra, and bandhani dupattas dance gracefully in circles around a pot containing a lamp. Besides the Garba is the "Dandia" dance, in which men and women participate in pairs with small, decorated bamboo sticks called dandias in their hands. The dances usually commence late in the night and continue until early morning. Another prevalent practice is of sowing pulses, cereals, and other seeds on the first day of this festival in a pot, which is watered for nine days at the end of which the seeds sprout. This pot is worshipped throughout the nine days. There are some other modes of public celebration too. People set up an odd number of steps (usually 7, 9, or 11), and place different images of Gods on them. This setup is called a Golu. Other people are invited to come and see Golu, and they are given prasad (the offering given to God that day): kumkum (red powder). Majestic processions of elephants and horses to the temple, particularly Durga temple is also very common. Just like Ganesh-Pooja, people build temporary but huge and beautifully decorated puja mandaps and place images of the Goddess Durga and all together worship for 9 days. On the tenth day (Vijaya Dashami) processions with Durga's images are taken out along the streets and immersed in water. Although there have been different forms of celebrations, the purpose of celebration is one and the same: worship Goddess Durga and get the blessings of all three aspects of the divine supreme.
What message does it deliver?
The striking story of Mahishasura Mardini says that Gods could kill Mahishasura only when their power and strength combined together in an organized fashion. Even good and righteousness can not win over the evil, if not organized and united. Even in today's world, being good and superior on an individual level is not sufficient. All good people should be united and organized. Only in that case they can win over the evil forces. Truly it has been said that – "Sanghe Shaktih Kalau Yuge" – means organization holds the key to strength in Kaliyug (today's time).

Note: Exercise files like Audio, Video or PDF for this resource item will be available if uploaded.