Shri Ram Navami
Whenever evil prevails and the entire universe is terrified by wicked forces and when there is no way out for the common people, Bhagwan Vishnu comes to the rescue. HE incarnates himself into an appropriate form for the upliftment of the good and virtuous, destruction of evil and re-establishment of natural law (dharma).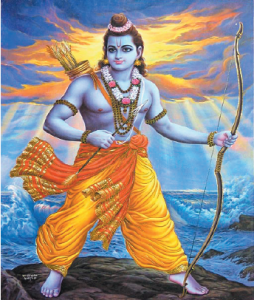 Thousands of thousand years back, the evil king Ravana was challenging the righteousness. He was wealthy, powerful, and mightiest king of the Earth at his time. He was a very learned and accomplished person too. But he was evil and wicked. He used all his powers and knowledge for himself and his supporters. Naturally, he became a danger for all, and Lord Vishnu had to incarnate himself to eliminate Ravana.
Lord Vishnu incarnated Himself as a Ram; elder son of the King Dashrath, the King of Ayodhya. Dasharath had four sons – Ram, Lakshman, Bharat and Shatrughna. All four brothers were learned and brave. Ram was dearest to all. Ram was married to Sita. To fulfill the desire of his mother Kaikeyi, Ram with his brother Lakshman and wife Sita, went to the forest for 14 years. During that period, the evil king Ravana abducted Sita and took her to his kingdom Lanka. Ram with the help of another king Sugreev fought with wicked Ravana and his army, defeated them and rescued Sita. Lord Vishnu in the form of Ram eliminated the demon Ravana and established the Dharma (natural law) again.
Ram Navami
Ram was born on the 9th day of the Hindu month Chaitra (March-April) in Ayodhya which is situated on the banks of the holy river – Sharay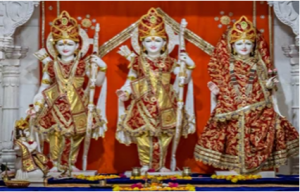 u. Navami means the 9th day. Since Ram was born on this day, it is called Ram Navami. Hindus celebrate Ram Navami as a festival. It is dedicated to the memory of Shri Ram. Celebrations begin with a prayer to the Sun early in the morning, chanting Vedic mantras dedicated to Lord Vishnu and offering flowers and fruits to the God. A special prayer is performed at noon as Ram was born at mid-day (noon). Hindus keep a fast throughout the day, breaking it only at midnight. Public gatherings called Satsang are organized and excerpts from the Ramacharitamanas, a book on Ram describing his powers, achievements, virtues and ideal conduct of a husband and ruler (Rama), wife (Sita), brother (Lakshmana) and companion (Hanuman). Ramacharitamanas (litel meaning – "Sacred Lake of the Acts of Rama") is an epic poem written by sant Tulsidas.
Hindus participate in a Ram Navami procession with a great zeal and passion. The main attraction of the procession is a nicely decorated chariot in which four persons are dressed up as Ram, his brother Lakshman, his wife Sita and his disciple Hanuman. This chariot is accompanied b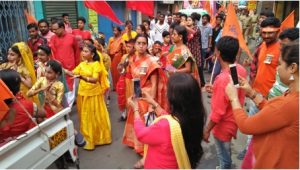 y several other persons dressed up as Ram's soldiers. In Ayodhya, Ram's birthplace, almost all templescarry such processions. Ram leela (the play depicting the life events of Ram) are also organized at places.
The Ramayana
The Ramayana is one of the two Hindu epics; attributed to the great sage Valmiki. It consists of 24,000 verses categorized in 7 parts (kandas) describing the life of Shri Ram. The name "Ramayana" is a compound of two words "Rama" and "ayana (going / advancing or travel)". In short, The Ramayana means – Ram's advancing (travel). The Ramayana is not just an ordinary story but contains the teachings of ancient Hindu sages. It was first written in Sanskrit, but later converted in various Indian languages. It is popular not only in India, but the entire Indian sub-continent including south-east countries, particularly Indonesia, Thailand, Cambodia, Malaysia, Philippines and Vietnam. It is not just restricted to Hindus only. For instance, Muslims in Indonesia read Ramayana with a great devotion. Lots of Buddhist countries have a profound impact of the Ramayana.
Is it worth reading Ramayana today?
Today's world is a science world. Men have landed on the moon and are now approaching Mars. Lifestyles and attitudes have changed completely. Is it worth reading Ramayana today which was written thousands and thousands of years back? Are teachings from Ramayana really relevant these days? These are often repeated questions. Answer is YES!! Science may alter the lifestyle of human being; it may bring materialistic prosperity but what will remain permanent and worthy are "Nature's Laws", "Moral Values". Human nature, emotions, moral values, problems will remain the same today and in future. And the Ramayana and it's Hero Shri Ram teach moral values. He established the highest standards for the values and his personal conduct followed those values. One can look up the Ram's character to identify the solution to any problem in the world. It is worth reading or listening to the Ramayana even now to foster good values/character and to be a good man.
Year 2020 was a great tribute to Bhagwan Rama. A long struggle to reconstruct the grand  temple at Shri Ram Janmabhoomi (birthplace of Rama) finally came to reality. Foundation stone was laid out on August 5th, 2020 and construction started. Instead of taking donations from few wealthy families for construction of temple, Shri Ram Janmabhoomi Teerth Kshetra trust decided to make all Ram devotees part of the construction. Volunteers reached out to every corner or Bharat and across the world to collect donations in small amounts.

Note: Exercise files like Audio, Video or PDF for this resource item will be available if uploaded.
Exercise with Fun
Quiz
Liked reading this story? Login with these credentials - parent/[email protected]!! and take the quiz.