Story of Ganesha
Bhagwan Ganesha is highly revered and the most worshiped deity by Hindus. Almost all Hindu homes have the deity Bhagwan Ganesh. With an elephant head and a huge belly, Ganesha is prominently known as the remover of vighna (obstacles) and good fortune. Because of this, many Hindus worship him before any major endeavor they undertake like school, college, business, marriage.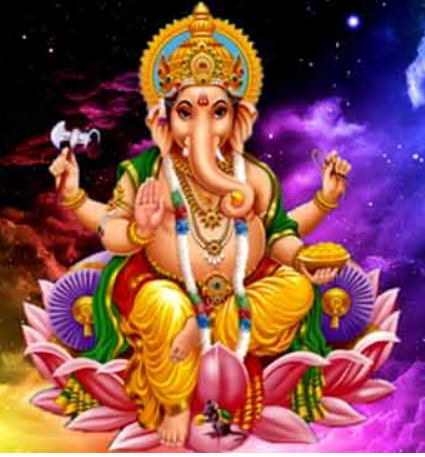 Ganesha has 108 names and some of the prominent ones are Vinayaka, Ganapati, Gajanana, Vakratunda, Ekadanta, Dhoomravarna, Lambodara, Krishna Pingaksha, Gajavaktra, Vikata, Vighneshwara, Balachandra. Each of these names have a special significance.
Most of the Hindu kids are raised hearing about the story of Ganesha's birth and as well as his other life stories. There are a couple of stories around his birth but let us learn two of the most popular stories.
In one story, the devas (Hindu gods) approached Shiva for help because they were being harassed by the evil rakshasas. Shiva, with his powers, created a glowing child from his mind with the head of an elephant and a trident in one hand. From that point forward, Ganesha became known as the mind-born son of Shiva who would protect the devas. Shiva's wife Parvati then placed him on her lap and said that any endeavor, whether human or divine, could only be successful after praying to Ganesha. Shiva then appointed Ganesha as leader of the ganas (celestial hordes). Therefore, Ganesha is also known as Gananatha.
Another well-known story comes from Shiva Purana. One day, when Shiva was away, Parvati was alone at home. She needed to take a shower but needed someone to guard the house. As there was no one else in the house, using turmeric and sandalwood paste, she created a figure of a young boy. She brought the boy to life and, after telling h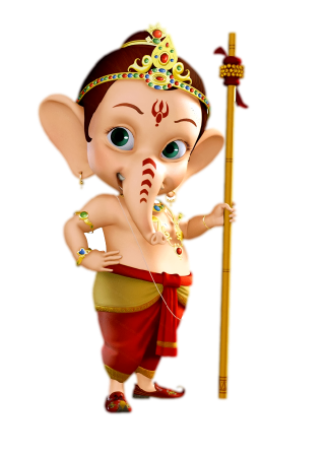 im he was her son, instructed him to stand guard while she went in to take a bath. Ganesha, being an obedient son, agreed and stood guard at the door. After some time, Bhagwan Shiva came back home to find a strange boy at the entrance. "Who are you, child?" he asked, "And why are you standing here?" Ganesha promptly responded, "I am standing guard while my mother bathes." Shiva did not know about Ganesha yet and was confused by hearing this. Not giving a second thought, Shive proceeded to enter his house, but was stopped by Ganesha. "This is my house, I am allowed to enter it whenever I please" Shiva said, growing angry, but Ganesha refused to let him enter. 
Shiva then ordered his men to remove the boy from the door so he could enter his home, but Ganesha was able to fight against all of them. With his men tired and hurt, Shiva was running out of patience as he once again asked Ganesha if he could enter. When Ganesha refused, Shiva, in a fit of rage, slashed the head of Ganesha, killing him on the spot.
In the meantime, Parvati had finished her bath and had come out to see what all the commotion was about. When she saw her son's head lying apart from its body, she was devastated and furious at Shiva for what he had done. Parvati explained to Shiva that Ganesha, was in fact their son. Shiva's anger dissolved, and he decided to bring their son back to life. He ordered his men to bring the head of the first animal who was facing away from its mother. Only such an animal could be separated from its mother without any negative consequences. The first animal they found was an elephant. Shiva placed the elephant's head on Ganesha's body and brought him back to life. Therefore, Ganesha is pictured as having the head of an elephant and the body of a man.
Ganesh Chaturthi is a 10-day festival celebrated in honor of his birthday.
Ganesha renowned for his wisdom and intelligence
One day, Parvati and Shiva received a special fruit from another god. They wanted to give it to one of their sons but did not know which son to g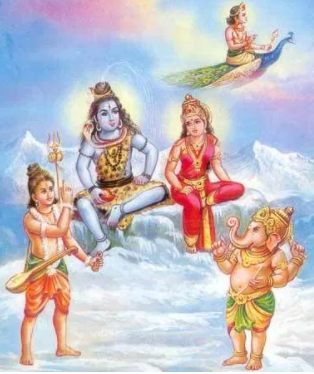 ive it to. Then Parvati came up with an idea. Seeing Ganesha and Kartikeya playing nearby, she said, "Come here children, we have this special fruit gifted to us by another god. To decide who will get to have this fruit, let's have a competition. Whoever can circle around the world three times and come back here first, will receive the fruit."
Upon hearing this, Kartikeya immediately stopped what he was doing and went to find his vehicle, a peacock. The peacock was swift, gifted with super speed. He went as fast as he could over the mountains and through forests. He was sure that victory would be his since Ganesha's vehicle was a mouse, which was not very fast. After Kartikeya finished his third round, he returned home, ready to eat his special fruit. When Kartikeya reached there, however, Ganesha was already eating it!
"That's impossible!" Kartikeya cried, "There is no way your mouse was faster than my peacock." Ganesha smiled. He explained to Kartikeya that he had simply walked around Shiva and Parvati three times, as his parents were his world. Kartikeya acknowledged his brother's intelligence and congratulated him on winning the race.
Ganesha transcribed the Mahabharata
When Sage Vyasa wa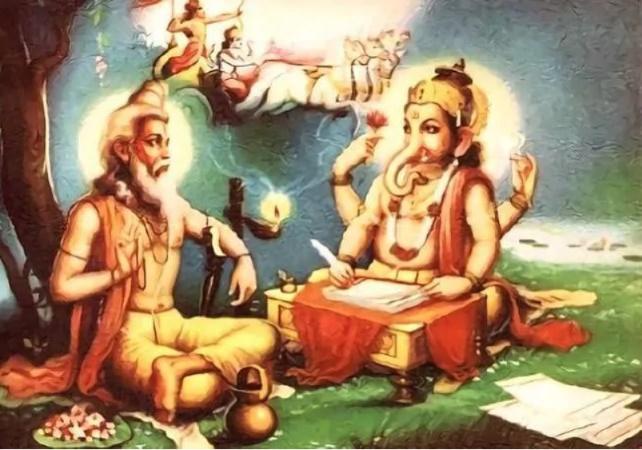 s first inspired to author the Indian epic The Mahabharata, asked Ganesha, who is famous for having a sharp memory and subtle intellect, to be his scribe. Ganesha agreed but did so under one condition: that Vyasa dictate the entire account without stopping even once. Vyasa consented, but not before posing his own condition: that Ganesha could write down a stanza only after fully comprehending its essence. Ganesha accepted and proceeded to break off his own tusk to use as a pen. Thus, whenever Vyasa wanted a break from narrating, he would give a particularly complex clause that would require Ganesha to pause in order to fully understand its meaning.
Note: Exercise files like Audio, Video or PDF for this resource item will be available if uploaded.
Exercise with Fun
Quiz
Liked reading this story? Login with these credentials - parent/Child@123!! and take the quiz.