Ugadi (Varsha Pratipada)
Festivals are an integral part of our life and culture, and Hindu tradition has plenty of them. There is a festival for every reason and for every season. Every celebration centers around rituals of praying, seeking blessings, exchanging goodwill, decorating houses, wearing new clothes, singing, dancing, and feasting. Do you know the most important festival that falls during March/April? It is Ugadi!!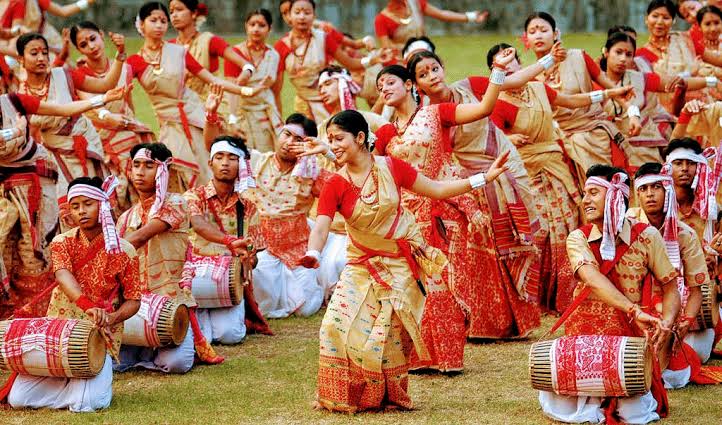 Ugadi is one of the most important festivals among the numerous festivals that Hindus celebrate. Ugadi means "Beginning of New age" (Yuga translates to age and Aadi translates to beginning). Since Hindu culture is so diverse and Hindu people speak many languages, this festival is recognized by various names, celebrated in various ways, and on various days. Some call it "Varsha Pratipada", some call it "Gudi Padva, some call it "Naba Barsha," and some call it "Goru Bihu."
Ugadi comes around the festival of Holi every year. It is a spring festival; during this time, the Goddess of Nature gets adorned as a divine bride. This season is characterized by fragrance in the air and fully blossomed Neem trees that purify the air. We listen to the chanting of birds and smell the fragrance of flowers from a distance. The onset of spring also marks the beginning of new life with plants (barren until now), acquiring new life, shoots, and leaves. The vibrancy of the lively fields and meadows full of colorful blossoms signify growth, prosperity, and well-being.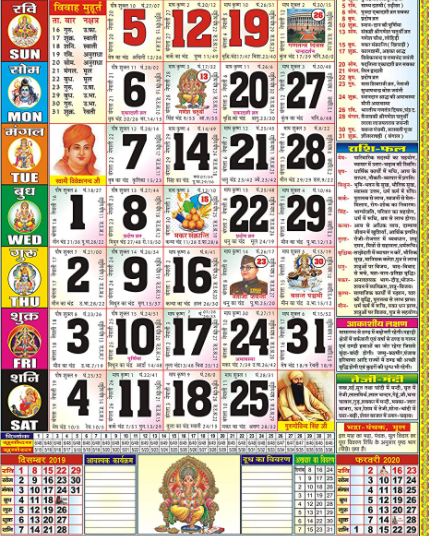 The day of Ugadi is also the beginning of a new year according to the Hindu Panchang. You may be puzzled and ask, "What is Hindu Panchang?" The Hindu Panchang is the Hindu Calendar. Just like English Calendar, Hindus also have their own calendar. They use it for religious customs and ceremonies. Since it is the start of the new year, people launch many new projects, start new ventures, and open new offices. They also purchase jewelry, gold, and valuable items on this auspicious day.
Ways of Celebration
Hindus celebrate this festival in various ways. Preparations for the festival begin almost a week before. Houses are thoroughly cleaned. People are shopping for new clothes and buying necessary celebration items. People wake up before dawn, apply coconut oil on their skin, and take a bath; after that, they decorate the entrance of their houses with fresh mango leaves and intricate rangoli designs reflecting the brightness of the spring. While wearing new clothes, they offer Pooja to God and seek his blessings before starting their day. They pray for good health, wealth, prosperity, and success in business. Some people celebrate this festival by hoisting a gudi – a bamboo pole with a rich and gorgeous cloth (of magenta or saffron color), a small branch of the Neem tree, and a garland. It symbolizes Shri Rama's triumphant entry into Ayodhya; it also acts as a mark of triumph of good over evil. It also symbolizes the Bharadwaj (flag of the Creator).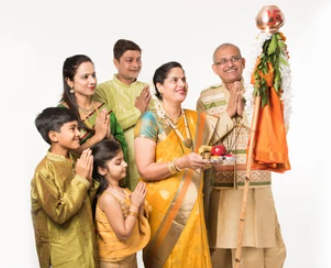 Some celebrate the festival in an entirely different way. Kavi Sammelanam (poetry recitation) is quite famous in southern Bharat (India). Ugadi is also a time when people look forward to a literary feast, in the form of Kavi Sammelanam. Many poets come up with new poems written on subjects ranging from Ugadi to politics to modern trends to lifestyles.
As the day starts, they eat a bitter-sweet paste made of leaves of the Neem tree, tamarind, and jaggery. The Neem paste is believed to purify the blood and build up immunity against diseases. Special dishes such as "pulihora" (like tamarind rice), "Bobbatlu" (sweet rotis), "Shrikhand" (like sweet yogurt), are prepared for the occasion. Ugadi is thus a festival of many shades. It ushers in the new year, brings a rich bounce of flora, and fills the hearts of people with joy and contentment.
| | | |
| --- | --- | --- |
| | | |
| Bobbatlu | Pulihora | Shrikhand |
Historical Importance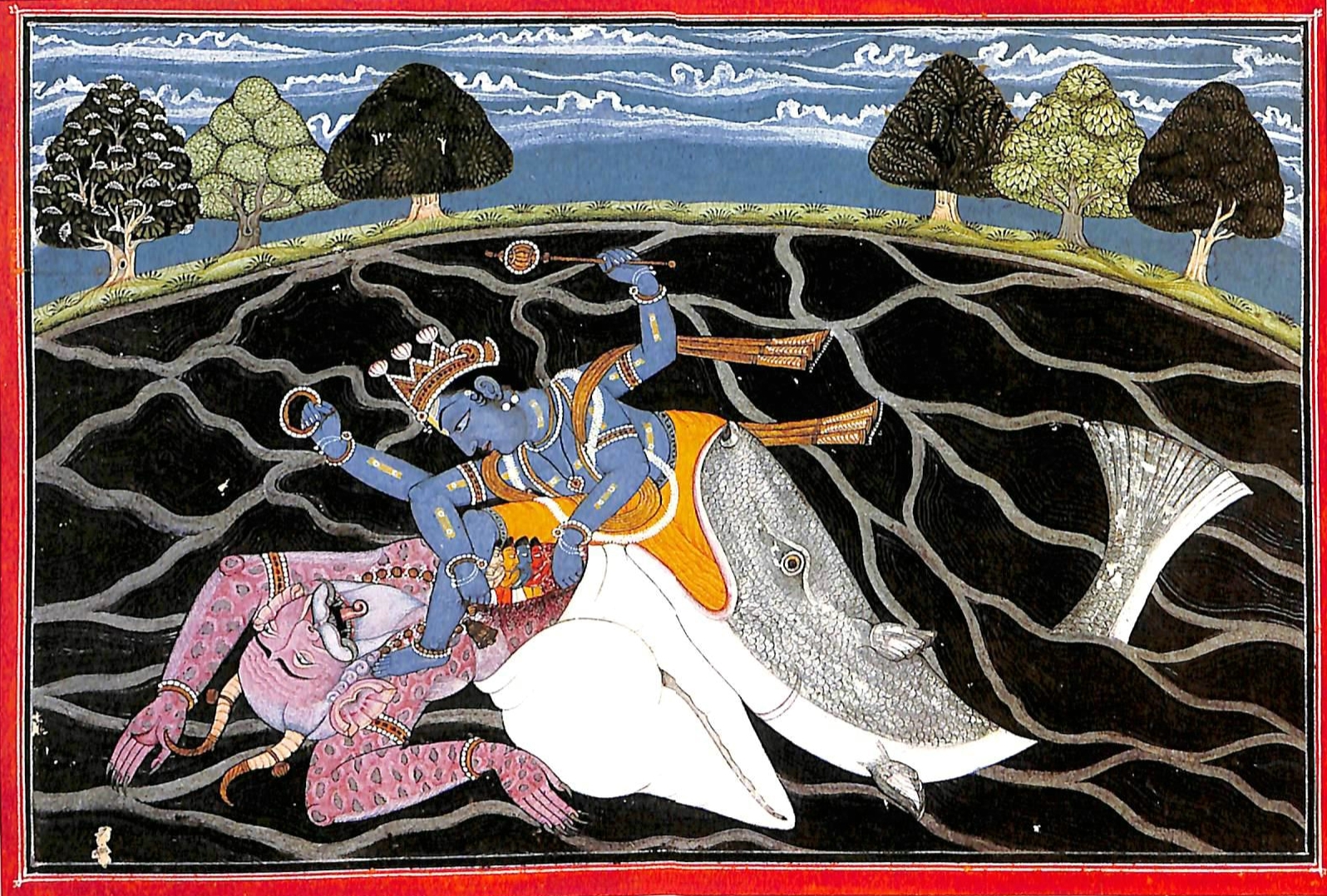 It is believed that, on this day, the Universe was created by Lord Brahma. This is the day when Lord Vishnu incarnated himself as Matsya (the Fish Incarnation). On this day, Shri Rama killed Vali. The great Indian Mathematician Bhaskaracharya's calculations proclaimed Ugadi as the beginning of a New Year, a new month, and a new day. This day recalls the inspiring occasion when the Kings Shalivahana and Vikramaditya defeated the barbaric forces of Shakas who came from Central Asia and invaded Bharat (India), during the 1st century A.D. The founding of new Eras, in the names of Vikrama and Shalivahana, signify the supreme importance accorded to them in the Hindu history.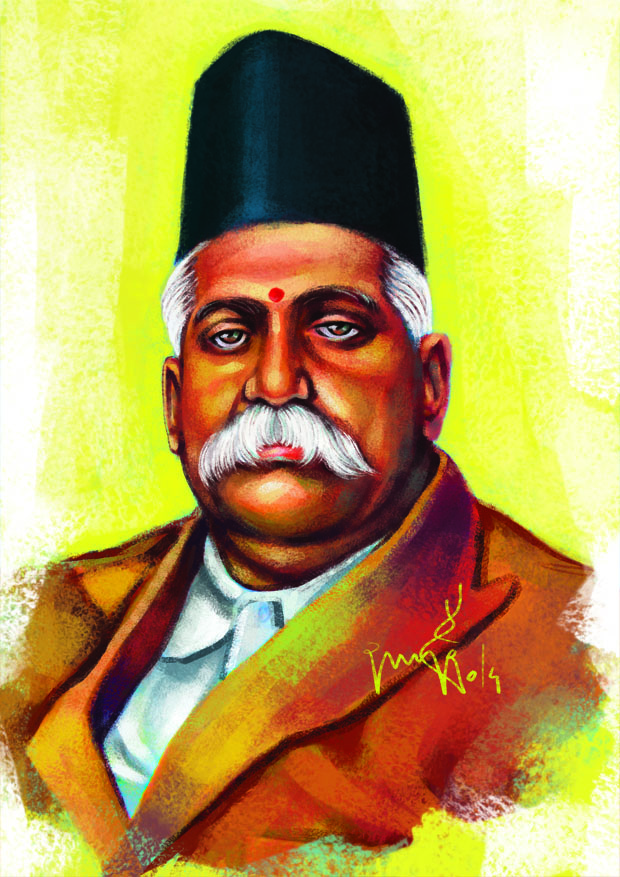 And what a happy coincidence! A great patriot, revolutionary and the founder of the organization —Rashtriya Swayamsevak Sangh (RSS)— Dr. Keshav Baliram Hedgewar was also born on the day of Ugadi.
Spiritual Significance
All the major Hindu festivals have their own purpose and significance, i.e., to show their relevance and importance in the context of the eternal world cycle of history. As mentioned earlier, people eat the paste of bitter-sweet leaves of the Neem tree, tamarind, and jaggery. Apart from its medicinal value, the eating of this mixture has an inner significance. Jaggery represents joy and happiness, and the Neem represents sorrow. A mixture indicates that life is a mixture of good and bad, joy and sorrow, success, and disappointment, and all of them have to be treated alike. Everyone should resolve to face calmly whatever happens this year, accepting it with good grace. Consider everything as for one's own good. Men and women should rise above sorrow and happiness and success and failure. Jaggery represents Krutayuga and Tretayuga, which is full of purity, prosperity, and peace. Neem represents Dwaparyuga and Kaliyuga, which consists of sorrow, chaos, and impurity. So, it is time to change ourselves or to purify ourselves by inculcating the divine virtues.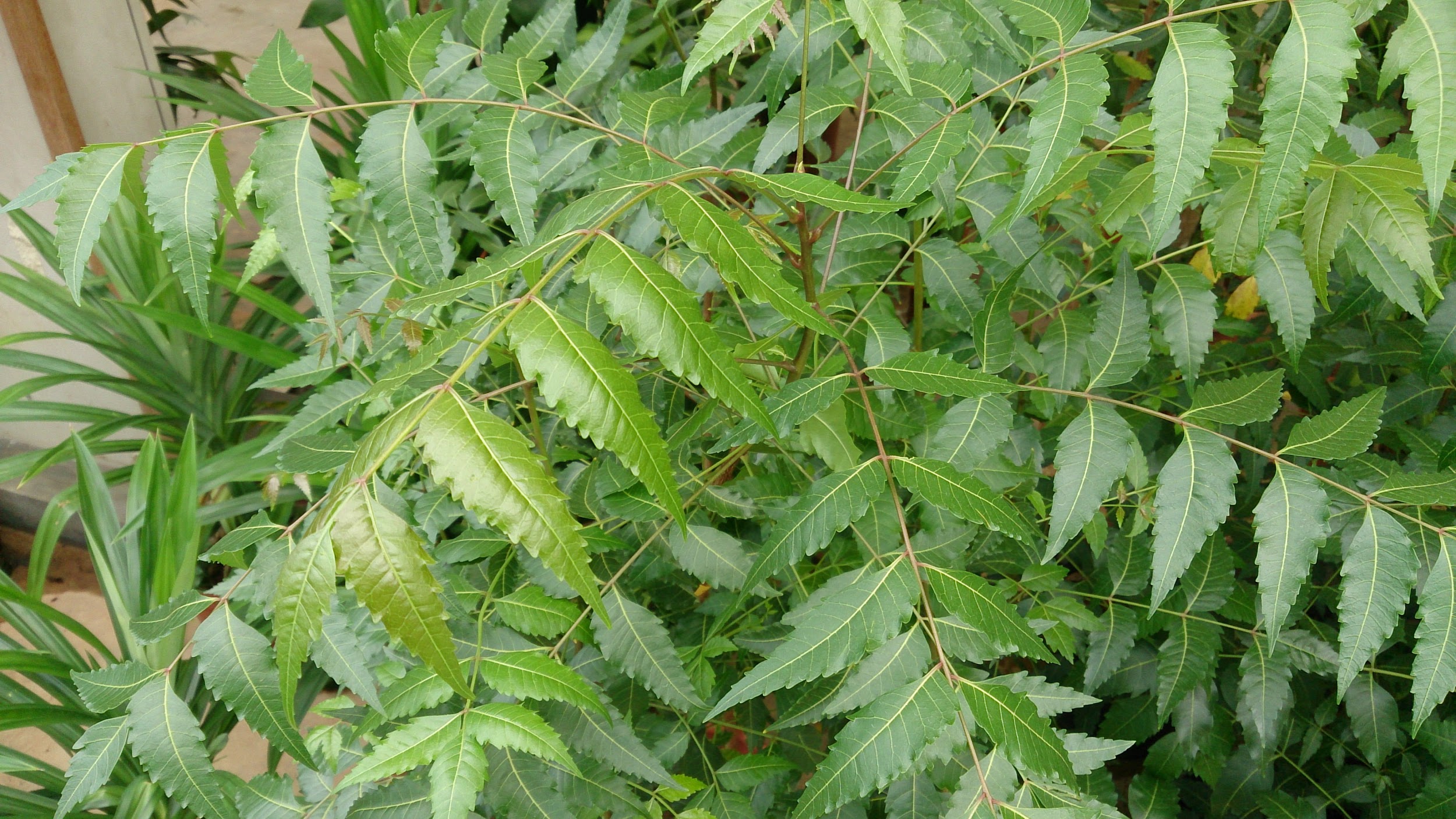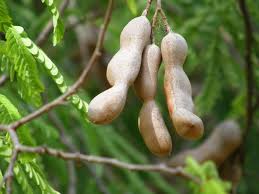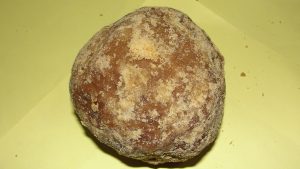 Note: Exercise files like Audio, Video or PDF for this resource item will be available if uploaded.
Exercise with Fun
Quiz
Liked reading this story? Login with these credentials - parent/[email protected]!! and take the quiz.