Young Narendra
Narendranath Datta (Narendra) was born on 12th January 1863 in Calcutta, a city in Eastern India. His parents were Vishwanath Datta and Bhuvaneshwari Devi. He had great respect for both his parents. He used to say to his friends, "There is no one as ready to make sacrifices as the mother. She must have the highest place not only in the home but also in society." On many occasions, he differed from his father's thoughts, but he never showed disrespect to him. Vishwanath Datta was a busy man, but whenever he found time, he advised Narendra: Fear no one as long as you walk on the path of Truth and the Dharma (virtue)
As a child, Narendra was very lively and naughty. As he became a teenager, his naughtiness grew. He was a natural fearless leader of the children in the neighborhood. His companions always bowed to his decision. He never fell into wrong beliefs and superstitions, unlike his friends. From his childhood, he practiced meditation. For him, it was a sport. As he meditated, he became oblivious to the whole world. Not even a lizard or a snake moving near him could disturb his concentration.
Narendra respected sanyasis or ascetics. He would give away anything to anybody if asked for. Once on his birthday, he gave away his new clothes. He would throw to passing by beggars anything he had. The spirit of sacrifice and renunciation was already blossoming in him from a very young age.
 Narendra's mother Bhuvaneshwari Devi would tell him the stories from the Ramayana and the Mahabharata. He would not sleep until she told him a story. He had great reverence for Lord Hanuman and Lord Shiva. Once he sat before the image of Lord Shiva, with his body all smeared with ash. His perplexed mother asked him, "Naren, what's all this?" He smiled and said, "Mother, I'm Lord Shiva."
Young Narendra: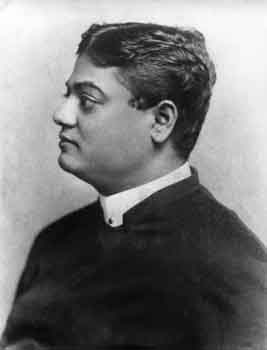 By 1880, Narendra passed his matriculation and joined a college. His thirst for knowledge had no limitations. He would read not only the books of prescribed courses but also anything he found in the library. At a young age, he had read history, science, western philosophy, arts, and all kinds of religious books. He had an amazing memory! He would remember everything by reading once.
As Narendra advanced in his studies, he developed several doubts about God's creation and His very existence. Soon he was searching for the Truth. He placed his doubts before eminent scholars and sought their guidance. Though these scholars excelled in debate and knowledge, their logic and philosophy did not convince Narendra. Their line of thinking was stale. Narendra would ask them only one question: "Have you seen God?" And none of them could firmly say that they had seen God.
Search for a Guru:
Once somebody told Narendra that there was a priest in the temple of Goddess Kali, named Sri Ramakrishna Paramahansa. He was not a scholar, but he was a great devotee of Goddess Kali. It was said of him that he had realized God. Scholars who went to him became his disciples. Once, Narendra also went there with his friends. He carefully listened to Sri Ramakrishna.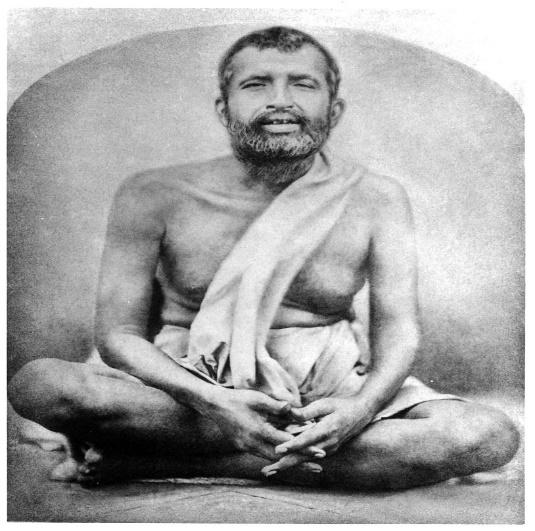 As soon as Sri Ramakrishna saw Narendra, he was thrilled with joy. Many indistinct thoughts came to his mind. He was extremely happy to see the attractive and charming personality of Narendra as if he were waiting his whole life to meet him. He patted Narendra on the back and said, "My child, why are you so late? Do you know how long I have been waiting for you?" His behavior puzzled Narendra. He thought the elderly man was insane, but he did not express anything. One thing he surely realized was that this man (Sri Ramakrishna) was different from others.
After a couple of meetings, Narendra directly asked Sri Ramakrishna, "Have you seen God!?" Sri Ramakrishna replied, "Of course I have. I have seen him just as I am looking at you. I have even talked to Him. I can show Him to you. But who has a desire to see God nowadays?" Narendra was surprised. He was not expecting this answer from him.  He eagerly asked, "Well then! Will you show me?" Sri Ramakrishna said, "Why not? Let the right time come, I will show you, God. To meet God, you will have to give up all your desires and surrender to God Almighty."
Narendra accepted Sri Ramakrishna as a Guru. He started visiting the temple regularly to meet Sri Ramakrishna. He learned a lot from his Guru. Earlier he had a strong objection to idol/image worship. But Sri Ramakrishna's teachings forced him to believe in idol worship. Narendra served his Guru in all possible ways. Because of his charming personality and grasping power, soon he became dear to everyone. That he was famous among Ramakrishna's disciples too. 
In 1884, Narendra passed the B.A. degree examination. During that time, his father passed away, and his family was immediately hit by poverty. During these difficult times, Narendra took care of his family. Many a day he went hungry so that his mother, his brothers, and sisters might have something to eat. To take care of the family's financial needs, he accepted a teaching position at the Vidyasagar School in Calcutta. Despite these difficult times, he continued to meet Ramakrishna regularly.
Sri Ramakrishna transferred all his spiritual knowledge and powers to Narendra. Now, Narendra became known as "Swami Vivekananda". Ramakrishna advised him, "Naren! I have given you everything that I had and become a pauper. Use this knowledge for the good and service to mankind." When he received the advice, Narendra was only 22 years of age. After the sad demise of Sri Ramkrishna, he took care of all his disciples.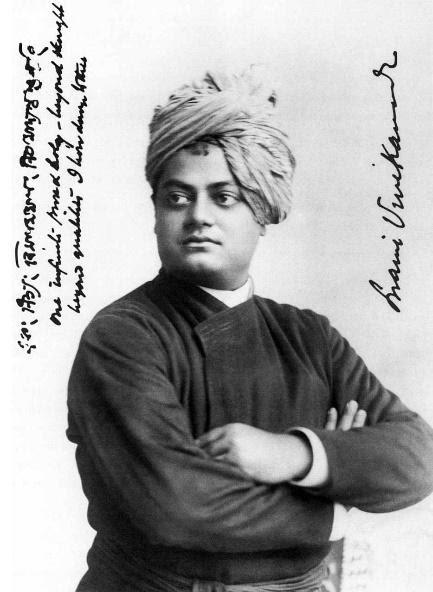 Vivekananda did many great things in his life. He went to America and England to extend the spiritual knowledge of India to the western countries. He received two minutes of a standing ovation from nearly 7,000 participants at the World Parliament of Religions conference in Chicago on September 11, 1883. There is a memorial for Swamy Vivekananda at Chicago Art Institute where he gave his maiden speech in America. He enjoyed an overwhelming response everywhere he went. He was invited by Harvard University to give lectures on Hinduism.
In India, he preferred to help the poor and needy in every possible way rather than giving speeches. For the service of mankind, he established the Ramakrishna Ashram. Throughout his life, he wandered through all parts of India to spread the knowledge of the Vedanta and help his Indian brothers and sisters.           
After the relentless efforts for his mission, on 4th July 1902, Vivekananda breathed his last and attained eternal bliss while meditating. Although Swami Vivekananda is no longer in this world, his legacy continues today. His writings, speeches, thoughts, and life have inspired millions of Hindus around the world and will continue to inspire coming generations.
Note: Exercise files like Audio, Video or PDF for this resource item will be available if uploaded.
Exercise with Fun
Quiz
Liked reading this story? Login with these credentials - parent/Child@123!! and take the quiz.