Shri Guruji Golwalkar – Pioneer of the Sangh
(Read about Shri Guru ji's early life story "Shri Guruji Golwalkar – Early Life" before reading this)
As learnt from the Gruji's early life, Shri Madhav Sadashiv Golwalkar (Shri Guruji) was a man of great personality. His inner urge was for spiritual pursuit. But after the advice by his spiritual Guru, Swami Akhandananda, he made up his mind that he would make some concrete contribution for the wellbeing of the country (Bharat), serving the society in a spirit of worship. This needed a specific field of activity. He had already seen Doctorji and experienced his Sangh. Now, he began to take more interest in the work begun by Doctorji. The patriotic instinct, which he had developed in his heart at Kashi, grew further as he came in contact with Sangh.
Doctorji assigned Guruji a responsibility of one shakha in Nagpur. However, he noticed Guruji's inexhaustible enthusiasm and devotion to the Sangh-work. He continued to assign him more and more bigger responsibilities. For example, he asked Guruji to go to Mumbai (a city in Western India) as a Pracharak (dedicated self to Sangh work and serve humanity). Soon, Guruji became one of the main pillars of the Sangh-work.
Guruji – Sarasanghchalak (chief of Sangh) of the Sangh: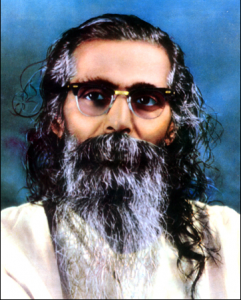 In early 1940, Doctorji suffered illness. His health seemed beyond recovery. Guruji remained with him like a shadow, nursed him, and served him till his end. Doctorji passed on the responsibility of Sangh work to the able shoulders of Guruji after he died on June 21, 1940.
Guruji assumed the office of Sarsanghchalak (Chief) of the Sangh after Doctorji's funeral rites were completed. Guruji was rather new in the Sangh as compared to other associates. He was not much recognized in the India also. This obviously raised doubts in the minds of many well-wishers and others. They were little doubtful about Guruji's capabilities. Someone questioned, "How can Doctorji give such a big responsibility to such a relatively new (junior) person like Guruji?". But soon everyone realized about Guruji's ability and capability and praised Doctorji that he did a right thing by giving leadership of the Sangh to Guruji.
Shri Guruji has written thousands of letters to his fellow associates and others. He has given hundreds of press statements and delivered countless discourses in his lifetime. Isn't it great?
As a Sarasanghchalak, Guruji gave a first message to karyakartas: "Let us not depend on any external instruments or sources of power. Let us draw inspiration from the memory of our beloved leader (Doctorji) and his burning patriotism. Let us fulfill our mission with firm faith and let us strive hard to achieve our objective of ensuring a pride of place to Hindu Rashtra on the world stage." Guruji pursued this goal tirelessly until the very end.
After becoming Sarasanghachalak, Guruji steered the organization for 33 years (1940-1973) as its guide and philosopher. He began the first of several countrywide, meticulously planned tours. During each journey Guruji was like a wandering sannyasi, spending each night in a different city or village. He cease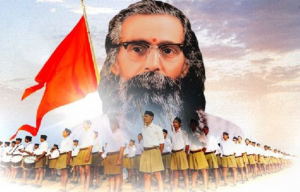 lessly participated in camps, rallies, meetings, discussions, and training camps making contact with thousands of young men, educating them about the significance of the Sangh work and instilling in them a missionary zeal for their wholehearted involvement in the task of national rejuvenation. Indeed, in response, thousands of swayamsevaks all over the India vowed to dedicate themselves entirely for the Sangh work, on a full-time basis. Sangh Shakhas sprouted even in remote corners of the India.
Guruji had clarity in his thoughts, purposefulness in action, firm faith in mental and physical powers, and a fearless disposition developed through his intellectual integrity. Because of his inspiring personality, apart from the Sangh Shakha network, which spread far and wide, a number of affiliates (organizations) also began to sprout forth one after another spreading Sangh ideology. Few handful names are: Vidyarthi Parishad, and Bharateeya Mazdoor Sangh, Vishwa Hindu Parishad, and Bharateeya Vanavasi Kalyan Ashram. To all these, Guruji Shri was the source – figure and a guide.
Guruji's inspiring and attractive personality brought thousands of people for his lectures. In those days, only Pandit Nehru (Prime Minister of India) and Shri Guruji pulled such a huge crowd for their lectures.
In the meantime, Guruji also had to protect the growing Sangh from the hostile and evil elements. The Sangh went through some bitter experiences. During the year 1947, Indian Government put ban on the Sangh for some reasons. Courageous Shri Guruji advised all karyakartas to start Satyagraha (agitation within constitution). His cardinal faith was that "Ultimately Truth alone triumphs." At last, Government had to lift ban on the Sangh. After that, every now and then, evil elements kept trying to harm the Sangh with false accusations and propaganda. But under the able leadership of Shri Guruji, Sangh not only defended itself against them but also emerged as a strong force serving the society (and eventually India). During this time, Shri Guruji personally went through bitter experiences. Despite all these, he never harbored even the slightest bitterness in his minds about those responsible for causing him harm and injustice.
Shri Guruji was not a blind follower of the Hindu principles. He never supported rituals and traditions which were baseless or meaningless. With the pace of time, Hindu society adapted many unacceptable beliefs such as castism and untouchability. Shri Guruji tried to eradicate those things via Sangh and its affiliates.
Because of his intimate contact with the common people and the elite all over Bharat, he always had his finger on the pulse – beat of India. He used to quickly analyze the situation and predict about likely dangers or issues or consequences of the current situation in future. Accordingly, he used to forewarn or advise the society and Indian Government.
Due to relentless traveling for the Sangh work, Shri Guruji gradually developed bodily ailments. In 1969, Doctors identified a cancer in his chest. Though Guruji underwent dreaded operation, he knew that his days were coming to end. Guruji maintained his calm and poise. Inspite of his illness, he never deviated but continued working. At the end, he passed on the stewardship to the shoulders of Shri Balasaheb Deoras (Madhukar Dattatreya Deoras).
Guruji breathed his last on 5th June 1973.
Guruji travelled throughout the Bharat at least twice a year for the Sangh work. In those days, he was the only person who used to travel so much.
Note: Exercise files like Audio, Video or PDF for this resource item will be available if uploaded.
Exercise with Fun
Quiz
Liked reading this story? Login with these credentials - parent/[email protected]!! and take the quiz.