Proclamation from City of Oakland by Mayor Libby Schaaf
Today we HSS Alameda Team got an opportunity to meet Mayor of Oakland Libby Schaaf in her office. It was wonderful meeting her. She acknowledged the work that HSS has put forward in the Oakland area by offering us a proclamation(by herself). This was the first time we made a footprint in the Oakland area, which is mostly dominated by African American and Hispanic community. It was a little special for the HSS Alameda team as we were getting First proclamation from Oakland and most importantly, it was the first time on Universal Oneness "Raksha Bandhan " day.
During our interaction she discussed the projects that HSS is planning to initiate in Oakland and also showed great interest to work together for our future endeavors.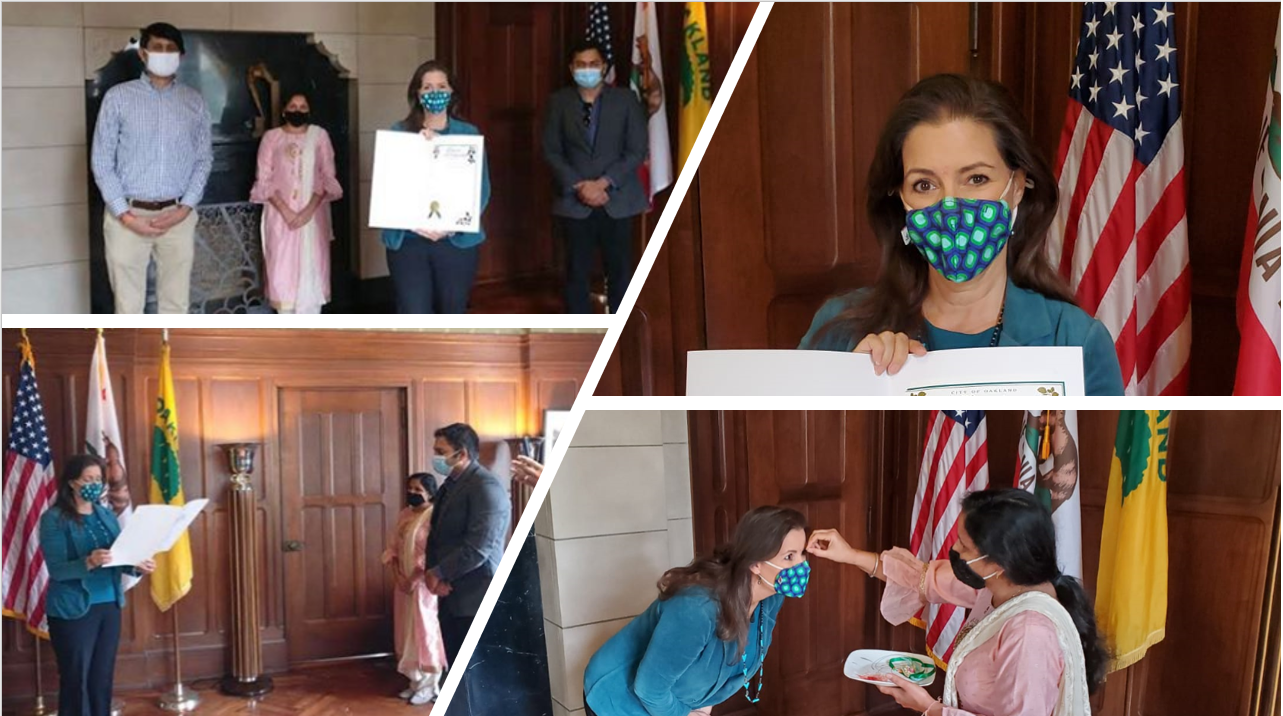 Summary of Sewa effort in Oakland
Background
On the first week of June HSS alameda team was reached by Praveen Veldenda ji who currently responsible for working with various indiginous organization. We were notified about the challenges that local Burmese (Buddhist) Refugee community of Oakland has been facing. We asked if we can step-in and help the community for a few weeks, in terms of providing Food.
The Plan and Efforts
Based on our Initial understanding of the issue, HSS Alameda team created a plan to support the community for a month. We were expecting things to get better in the coming weeks. We divided the entire month among 4 balagokulam, created a plan for fundraising and started acting upon it.
To ensure we get the right amount of donation (Food/Fund), we created a campaign "Each One Feed one" and requested shakha families to sponsor a refugee family by providing/Sponsoring a packet of food. Each packet consists of 4 packets of 4lb Dal, 10 lbs of Rice, one bottle of vegetable oil. As soon as this plan was shared with Shakha families, many stepped forward to sponsor the cause.
Continuing the Efforts (from 4th weeks to 13th Week)
Based on the outreach, the response from shakha families was pretty overwhelming. Our Initial plan got converted from 4 week to 9 week as few shakha opted for doing this Sewa activity for two to three weeks.
Around the 8th week when we were running out of donations/funds, however somehow we were contacted by Sewa International and they asked if we needed some help in terms of food. We were delighted and happy that it's not over yet. We are still fortunate to support this Yajna for some more time. Last week when we asked the local community leader if this support is still needed. He checked back with the people and was very sad. More than him it was people around him. We could notice tears in their eyes considering the challenges they are facing,
No Job (because of Covid)
No Car (No source of transportation)
No English
No Education
And Most unfortunate was EDD Cut
Plan of Action for Next few months 
Burmese Community
1. Tutions to kids (English/Maths)
2. Training Men/Women in English and driving if possible
3. If things work out well, set up a pool to sponsor them to buy car and other things to make it a self sustainable community
Bring Smiles Diwali Donation drive
The Mayor and her team showed interest in the Diwali Donation drive as well and want to check if we can support other organizations in the Oakland area.
With all the efforts we are making sure, we build a strong relationship with the City of Oakland and Most importantly bond of Support and Trust with Burmese Buddhist Community.
Videos and Photos
Video of Mayor – Proclamation read out
Stills from the office of Mayor
Social media Handle of the Mayor Office. – Kindly do like and share.
Facebook: https://www.facebook.com/MayorLibbySchaaf/posts/2740173432935122
Insta: https://www.instagram.com/p/CEVM-_DhZMN/
Video from Burmese Community
https://www.facebook.com/hssus/videos/3660206727357972/UzpfSTY0MTk4OTY0NjoxMDE1ODQxNTI0NTk4OTY0Nw/